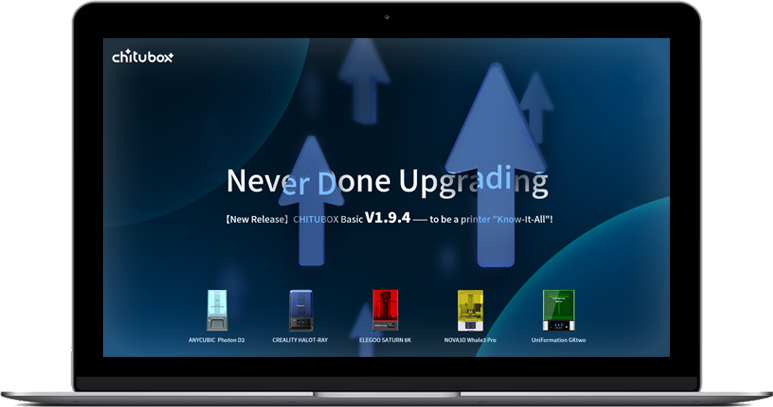 A free 3D printing slicer software to help you design and slice you objects.
User Manual 2.0 Now Updated
Minimum Supported Firmware Versions
Starting from CHITUBOX Basic V1.9.0, we have added the TSMC and Resting Time features from CHITUBOX Pro to the Basic version for the 3D printers using Chitu Systems. This enables you to maximize the benefits of hardware-software integration. To use these features, you should update your printer firmware. Take a look at this tutorial to know how to update firmware.
Note: The new features only works on printers that support the CTB format. For those who don't, you don't need to update firmware, but unfortunately you can't use the TSMC and Resting Time features either (although other features still works). If your printer is not listed here, please contact your printer vendor for support. If you are a DIY user and using a Chitu board, please find your firmware on
the Chitu Systems website
.
Frequently Asked Questions
Technical Specifications
Language Translations
Easily switch between any of the following languages...
English
French
German
Italian
Japanese
Spanish
Portuguese
Turkish
Greek
Russian
Simplified Chinese
Traditional Chinese
Korean
Supported File Formats
Slicing format:
ctb、pwx、pwmo、pwms、pwmx、photons、pw0、svgx、lgs、lgs30、lgs4k、slc、zip、fhd、wow、fdg、cbddlp、photon、phz
cws (via plugins), lgs (via plugins)
Supported Platforms
Windows
Windows 7 64-bit, Windows 8 64-bit, Windows 10 64-bit.
Mac OS
macOS Catalina 10.15 and later versions.
Linux
Ubuntu, Debian, and Fedora-based 64-bit distributions.
Recommended distributions: Ubuntu 20.04 LTS and later versions.
System Requirements
Recommended Requirements
Intel Core i7 4790 or AMD Ryzen 7 2700X
32GB or more of RAM
Minimum Requirements
Intel® Core™ i5 6600K or AMD Ryzen™ 5 1600
16GB of RAM
OpenGL 2.0 capable system
10GB of available hard-disk space