CHITUBOX V1.8.1 Released! Improved Features, Smoother Experience!
---

About a month ago, we released CHITUBOX V1.8.0 Beta, introducing a lot of important feature updates, including slicing and saving speed optimization, tolerance compensation, island detection, support preview, and more. (Click here to know more about the update details of V1.8.0 Beta)
Since V1.8.0 Beta, the CHITUBOX team has been collecting feedback and optimizing the software based on that release. And now, we are introducing the improved, smoother new version – CHITUBOX V1.8.1!
Feature optimizations
In this release, we have brought a lot of feature improvements that make CHITUBOX better.
We have reduced the physical memory usage of CHITUBOX when it launches or is idle without any model imported. This helps CHITUBOX, other programs, and your system work more smoothly;


The Tolerance Compensation feature has been improved: the Bottom Tolerance Compensation feature now covers the transition layers;
We have optimized the island detection feature, so it can run based on the last detection and removal results; (In the previous version, running island detection will restore the previously removed islands. Now this issue has been fixed.)
We have optimized the saving mechanism of your software configuration file, so the file won't get lost when you upgrade from an old version to this one;
Note: If you upgrade from V1.8.0 Beta, you still need to export your configuration file from the old version and import it on the new one to sync your configuration. You won't need to do that if your upgrade from another version.
To import and export configuration files, simply click Main Menu > Help > Import Configuration/Export Configuration.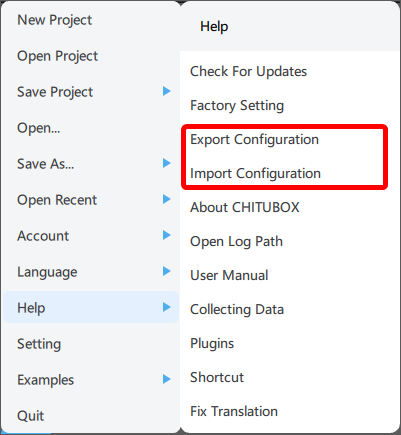 We have optimized the delete support tool, so now you can select and delete a single top part of support;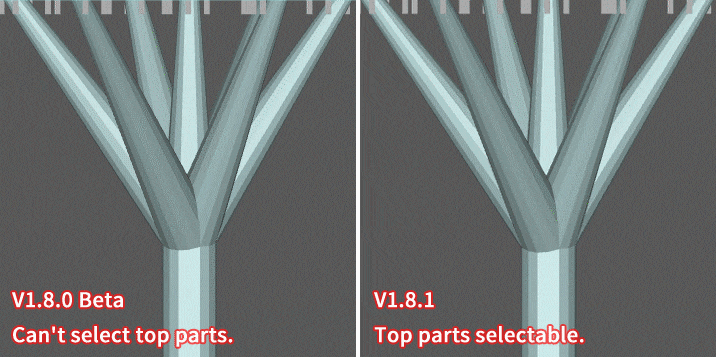 We have added an option in the Hollow window, so now you can select whether or not to play the hollowing process animation when you start to run it.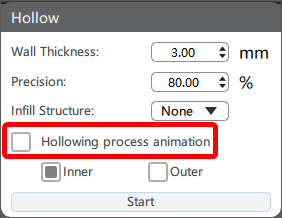 The default rotation base angle has been changed from 90 degrees to 45 degrees. This allows you to rotate your model more conveniently.

File List is now draggable. This change makes it more convenient to check your file name if it is very long.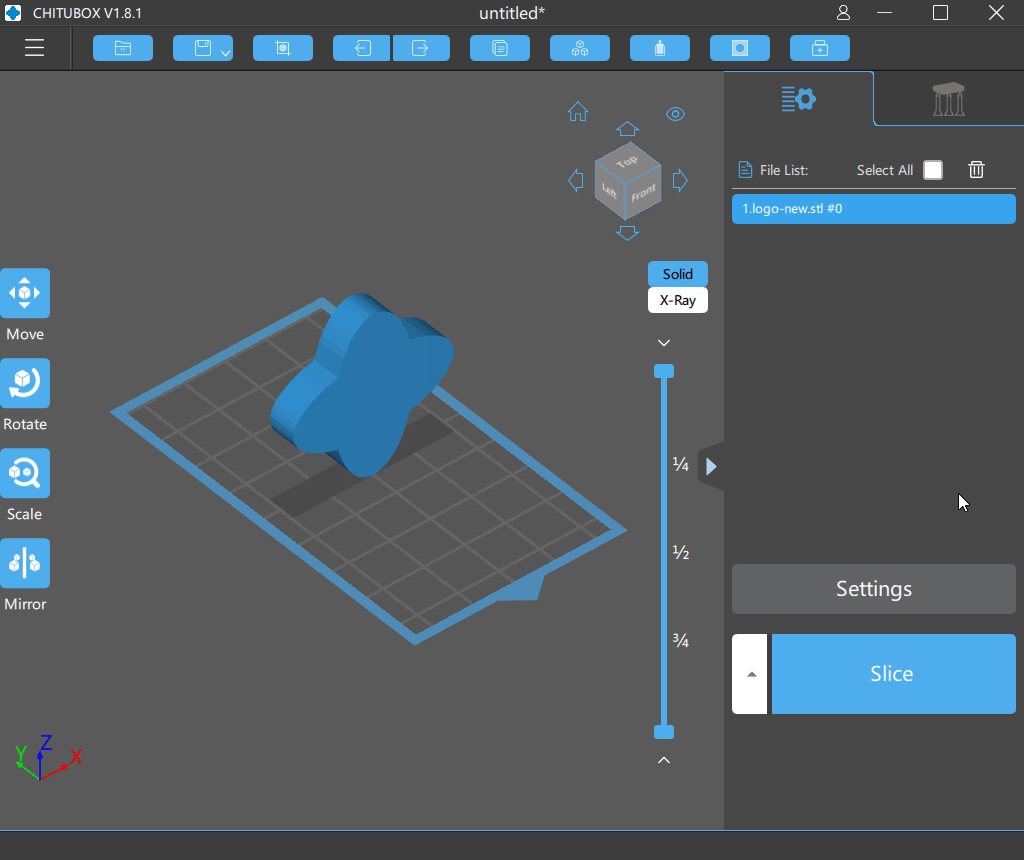 And more…
Machine setting updates
What's more, this release has updated a lot of parameters and settings of the supported printers. These includes:
Adjusted the parameters of QIDI i-box mono;
Removed the QIDI Shadow 5.5 printer;
Added the QIDI mono 6.08 printer;
Adjusted the parameters of ELEGOO Saturn
Adjusted the parameters of the Phenom printers;
Fixed the problem that there was no saving format when saving sliced files for the AnyCubic Photon printer;
Added printing and anti-aliasing settings for the AnyCubic Photon-S printer;
Removed the "Profile" printing setting profile for the printers that have their own profiles.
…
Bug fixes
In addition to the feature improvements and printer parameter updates, we have also spent a lot of effort to fixes issues with the software. For example, we have
Fixed the bug that the system could crash due to the autosave feature;
Fixed the bug that a support could disappear in the support editing mode when clicking its connection sphere multiple times;
Fixed the bug that a support could disappear when moving it;
Fixed an issue with the scale to fit feature;
Fixed a problem that when a model is right at the size of the platform, an exceeding border message will show up when slicing it;
Fixed the bug that caused excessive parts to be added to a model after it was sliced;
…
We only show important improvements and updates in this post. For more details about this release, you can take a look at the CHITUBOX Free Previous Version page.