CHITUBOX Pro V1.1.0 -- Faster Slicer for Huge Volume Data!
---
CHITUBOX Pro has widely won the favor of 3D printing users and hobbyists since its first version was announced. However, as demands for updates keep arising, and technology of SLA/DLP/LCD also undergoes a rapid development towards procession of a larger workpiece and application of machines with higher display resolutions, the CHITUBOX team also needs key breakthroughs achieved in the field to better facilitate our users. With great efforts paid by the CHITUBOX team in the research and settlement of every single technical issue, the day for us to announce the release of the latest version of CHITUBOX Pro, V1.1.0, has finally arrived.
Key features updated in CHITUBOX Pro V1.1.0 compared with the previous version:
Cross-platform support on Windows (64), macOS and Linux.
Faster and more efficient slicing of huge volume files.
Better compatibility with more 3D printers.
More intelligent Support feature.
And more…
Cross-platform Support
CHITUBOX Pro has been updated to V1.1.0 to fulfill your request for cross-platform support, and for the first time, it enables running on macOS and Linux besides Windows. Albeit one license now can be shared on different platforms, it can be registered once only for each platform, which means one license cannot be used for registration on more than one computer that is running on the same platform.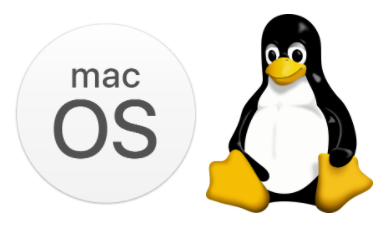 Breakthrough Highlights
1. Incredibly Faster
As the size of LCD 3D printers becomes increasingly larger, and the new height of display resolution has also encountered frequent updates, firstly 6K and subsequently 8K, the software requires upgrading accordingly to ensure productivity. Compared with the previous versions, CHITUBOX Pro V1.1.0 is incredibly faster in dealing with huge volume data of models and supports, which offers you a much more smooth-running experience. Even though the number of triangle mesh consisted in your file has exceeded a hundred million, CHITUBOX Pro V1.1.0 remains a powerful engine for your 3D printers.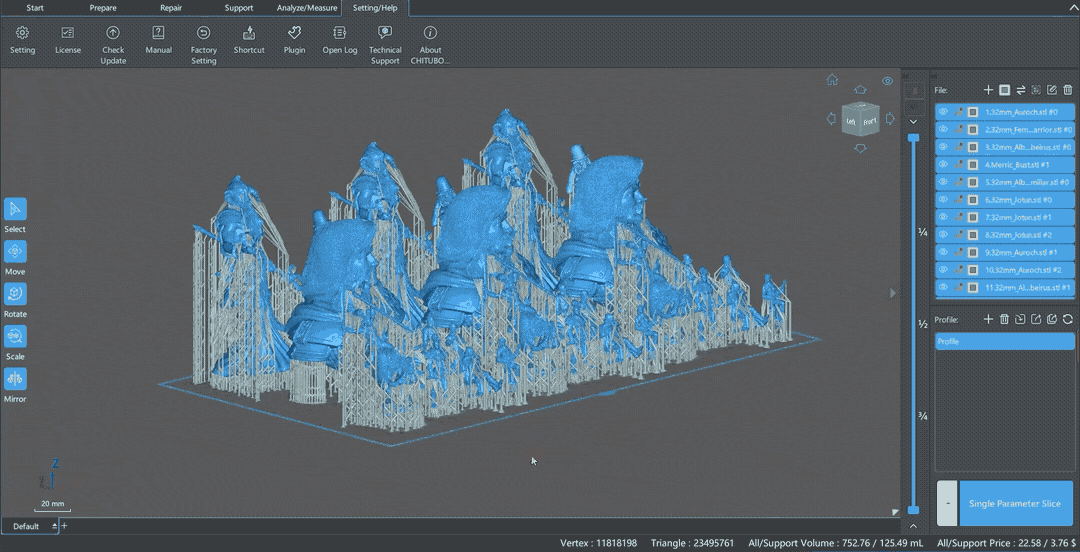 Smooth-running CHITUBOX Pro V1.1.0
2. Much Higher Slicing Efficiency
To enhance the performance of the slicer when slicing large-volume files with machines of ultra-high display resolutions, we have especially targeted the upgrade of the slicing speed, which also enables you to access the preview of slicing within a much shorter time, and therefore to greatly improve your work efficiency. Such improvement in slicing speed will be sensed much more obviously and directly when the model has been added a great many supports.

Slicing Efficiency Comparison
3. Accelerated Island Detection
Concerning the detection of islands, CHITUBOX Pro V1.1.0 offers an unprecedented user experience, which are multiple times faster than any versions that were released ever before. Since the island detection would be applied, for the majority of users, a couple of times previous to the saving of the sliced files, such acceleration of the feature would contribute a lot to the productivity in practical use.

Island Detection Efficiency Comparison
4. More Time-effective in Saving Sliced Files
Since it is a must to save the sliced files when transcribing data of the model into the sliced ones, and requests for the procession of much larger workpieces, slicing of multiple models simultaneously, as well as application of machines with higher display resolutions, are accounting for an increasingly larger proportion of the community, the importance of efficiency improvement in saving sliced models is ascending greatly day by day. Fortunately, one of the breakthroughs we have achieved for CHITUBOX Pro V1.1.0 is the higher efficiency in saving sliced models, which will again bring the productivity to the next level.

Saving Efficiency Comparison
Printers Supported
CHITUBOX team has always and will continuously upgrade the software to support those quality 3D printers in the market. CHITUBOX Pro V1.1.0 released this time enables working with many more quality 3D printers, especially those featuring higher display resolutions and the capability to process large workpieces, which are listed as below:
Flashforge Foto 6.0
Flashforge Foto 8.9
ELEGOO SATURN S
EPAX X1-4K
EPAX E10 5K
EPAX X10 5K
Peopoly Phenom Prime
Phrozen Sonic Mega 8K
EPAX DX10 Pro
EPAX DX1 Pro
Features Upgraded
1. Upgraded Auto Support Algorithm
The auto support feature has been further enhanced in CHITUBOX Pro V1.1.0, where besides strengthening the supports to areas like overhang and risky islands, extra cross bracing structures now can be auto-generated to enhance the supports that already exist, which will further ensure the pass rate and model completeness when printing complicated and big size models.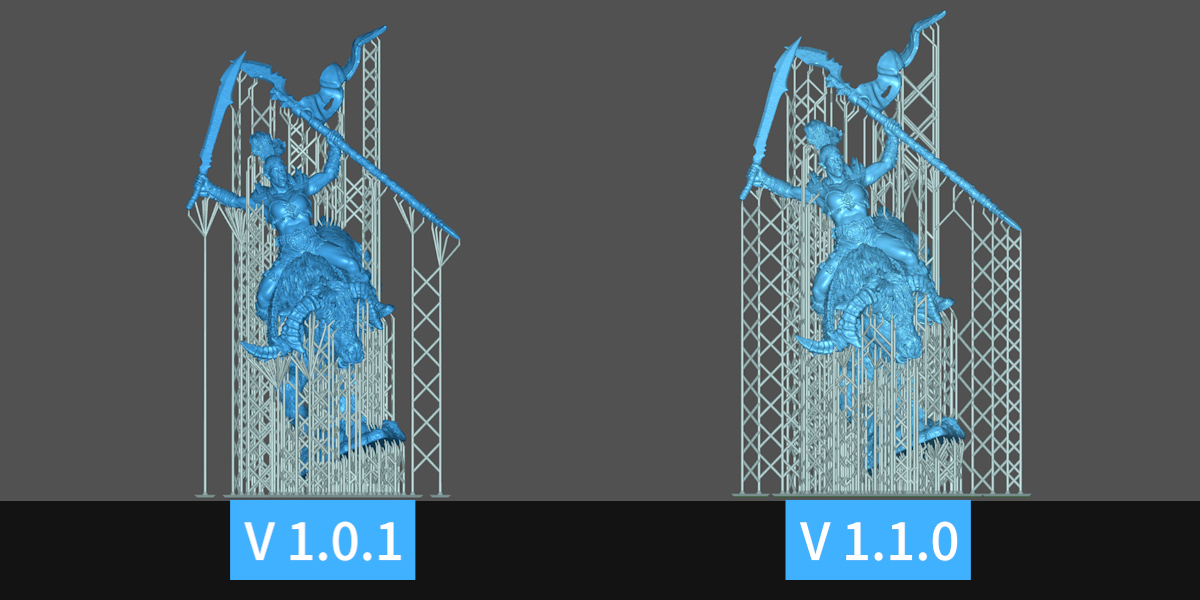 Upgraded Auto Support Algorithm
2. Instant Switch between the Support Settings
By pressing the Tab key you can instantly switch between the preset settings of Supports, which can also be further customized, and with the help of the preview window, the variation will be visualized in real-time manners. Moreover, the new paraeters can be directly applied to the supports of your models as long as they happen to form the shape you have in mind.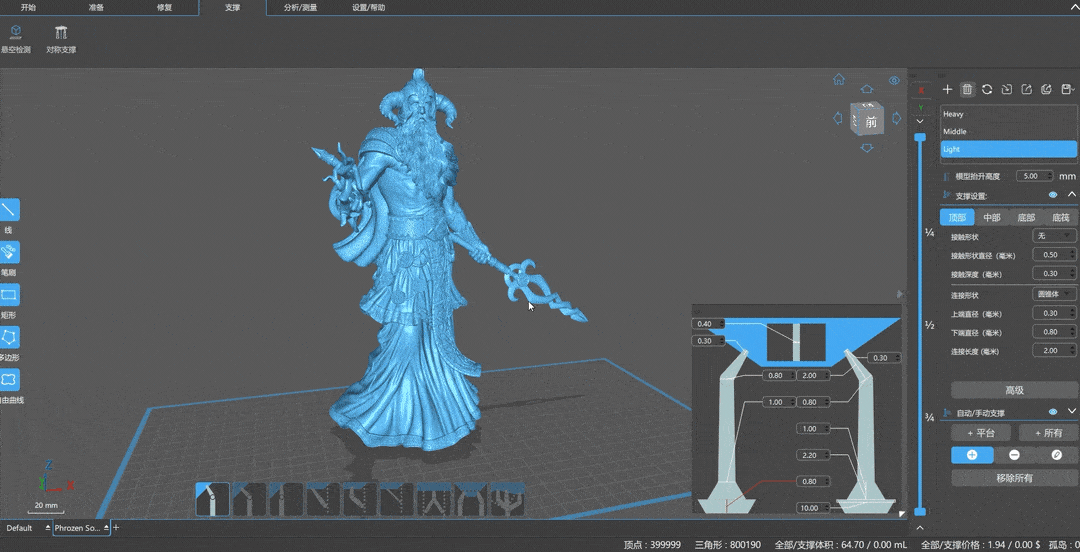 Instant Switch between the Support Settings
3. Real-time Adjustment of Raft Parameters
CHITUBOX Pro V1.1.0 enables the variation of Raft parameters to be visualized when the Raft is activated and modified under the Support edit mode.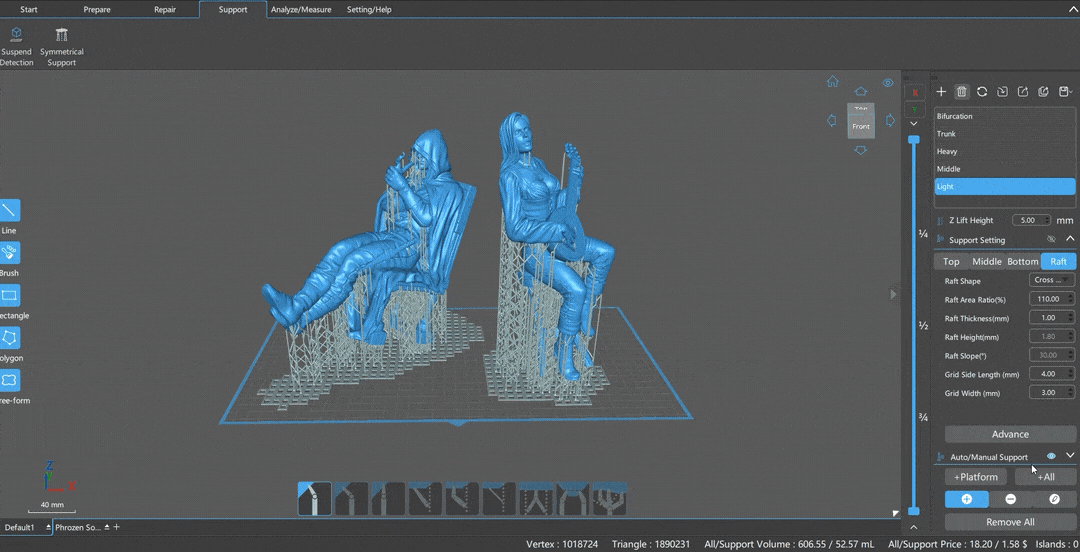 Real-time Adjustment of Raft Parameters
4. More Accurate Print Time Forecast
Dedicated efforts have been paid to improve the accuracy of print time forecast for scenarios like the TSMC (Two-stage Motion Control), and the multi-parameters slicing, which will continuously remain one of the priorities for us to improve and upgrade.
5. Optimized Translation
The translations of Korean and Italian have been optimized for CHITUBOX Pro V1.1.0, for which we would like to express our sincerest gratitude to those who have helped us proofread the translations. Your supports and help not only enable our users a better understanding and command of the software, but also offer us great momentums to improve and grow. Many thanks for what you have done so far. We always welcome all kinds of suggestions and feedbacks.
Bug Fixes
In addition to the feature upgrades and support of more 3D printers, several reported bugs have also been fixed for CHITUBOX Pro V1.1.0, where we have
1. Fixed the error in access to the Repair interface when no model is selected;
2. Fixed the gap generated when manually adding the two-point connected support;
3. Fixed the display error of the coordinates when downsizing the window of the program;
4. Fixed the support penetration when adding supports to the model;
5. Fixed the display color of model layers in slice preview when activating the X-ray display mode;
6. Fixed the prompt for deletion of supports added on another interface when adding supports on the Repair interface;
7. Fixed the program crash occurs when previewing huge stl. files.
CHITUBOX Pro V1.1.0 now is released and available for download. You are kindly invited to join the FB Group of CHITUBOX in case you have any questions when using.
*Model credit to https://www.loot-studios.com/library